The School of Narrative Leadership believes in strong connections and co-creation. When you feel the urge to connect please feel free to contact us. Let's share thoughts and idea's over coffee. Live or via skype.
The School has started a collaboration with the Druppel Academy in Haarlem, the Netherlands. The School will offer trainings on Playfulness, Perception and Positioning for therapists. The trainings of the druppelacademy are being acknowledged by de professional dutch associations for therapists: VIT, NVECP, NVAGT en VvvK.
For many years Carla Maria collaborates with René Diepenveen from AiB.
The School is proud to be partner at Unleash Leadership   –  For Organizations, High Performance Managers and Experts!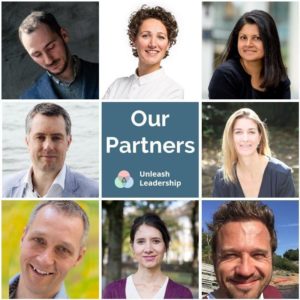 It is great to connect with other partners from different parts of the world and translate our experiences and qualities into designing creative learning spaces, inspiring growth for individuals and create impact for organisations.
My partnership translates into the roles of participatory facilitator, executive coach and product designer.